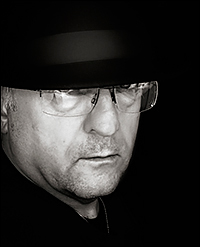 I'll try to make this as brief and painless as possible.

I am a photographer - you can tell this from my self-indulgent, moody portrait.
I live in the Midlands of the United Kingdom but do admit to stepping outside its borders to take photographs once in a while. I studied Graphic Design at university where I decided I was probably more of a photographer than a painter.

I prefer to make monochrome photographs and believe I may actually be seeing the world in greyscale. Although thinking about it, I also happen to take a few colour pictures as well. My photographs have featured in exhibitions, the Royal Shakespeare Company have used my work and I have also been published in photographic magazines.

In 2016 I was awarded a Licentiateship by the Royal Photographic Society.